Facials & Makovers
Cleanse, tone, mask of your choice, lifting serum followed by facial massage. Younique has launched an amazing skincare line, complete with cleansers, night cream, lifting serum, detoxifying mask, and more! .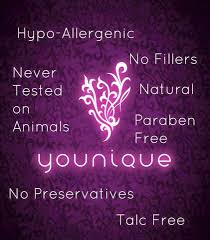 If you already know the products well and would like to shop then visit our shop, if you would like some guidance please don't hesitate to contact me.
I
have now started to sell Younique products in my salon.
This make up is fabulous, given you the best cover up on acne scarring, rosacea, blemishes, tattoos you name it, it works like magic.
You are able to go to my product website and place an order and this will come straight to your home, or you are able to make an appt and you can collect from the salon if you are local.
If you would like to know what colour foundation you should buy why not contact me and I can let you try before you buy.